3 Min Read
By: Jean Picher
With most of your workforce going hybrid or remote, how do you strike a balance? We find out in our Montreal move.
Earlier this month, we completed our move to the new Compugen office in Montreal. Like many other organizations around the world, we ended up with a mostly unoccupied office for the better part of the last two years. Most of our staff went either remote or hybrid, and even when workers did come in, it was not the full house that we were used to seeing. The result was a lot of unutilized space and equipment – something had to change.
Our VP of IT Dean Reid previously talked about the modern workspace as an ideology rather than a blind practice that relies solely on technology. It's an answer to the changing dynamics of the workplace and an exercise in agility for organizations to quickly adapt to the ever-changing rules of engagement.
So, faced with a mostly empty office in a major Canadian city, we had a problem to solve. How do we make the best use of the space that we have? And what is the right amount of square footage that we need without hurting operational efficiency?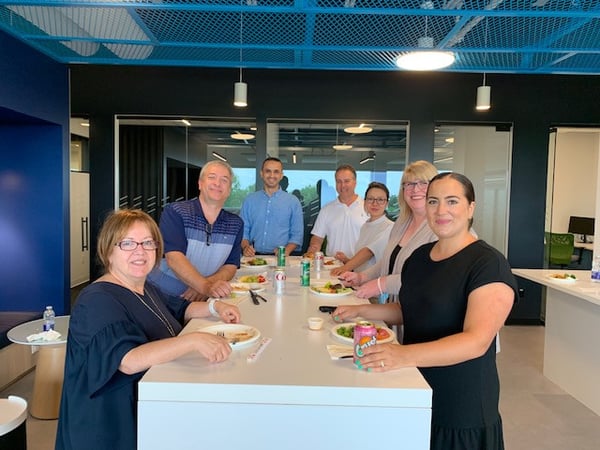 The first step was to define worker roles and determine who among them needed dedicated space in the office. When the pandemic began, our service desk staff switched to remote work and, armed with the tools they needed, continued to fulfill their duties without ever having to set foot in the Montreal office.
Our sales team had their own requirements and frequently needed to be in the office to work with colleagues and host customers, so the decision was around whether they needed dedicated space or if shared hot desks would be a more suitable arrangement. On the other hand, one subset of the workforce that we left untouched was the technicians. They need permanent space – lots of it – to do their job and house all the computer parts and devices they work with. In fact, they weren't part of the move at all and worked in a separate, much-needed office.
When that part of the planning was done, we moved on to figuring out the right amount of space for the office. We knew what we could trim, but that didn't mean we would lose all of it. Instead, we devised creative ways to dedicate the "leftover" to more useful pursuits. Out of this endeavour came the Apple Customer Experience room. We created this space to host clients and demonstrate the possibilities of the Apple ecosystem – whether they're a business, a school board, or a public sector organization.
Since Compugen became the first Apple Authorized Education Specialist (AAES) in Canada, we have started hosting training sessions and webinars for pedagogical consultants and teachers so they can better understand the technology. These sessions are for all levels – from newcomers taking their first steps onto the Apple platform to more tech-savvy educators. Following the success of this initiative, we worked with Apple to open our first Apple Customer Experience center, which equipped us to host weekly seminars, both remote and hybrid.
This move also allowed us to be more imaginative in how the office is set up. We designed the space and adapted it to the current working reality based on what is expected and convenient for our workforce. The office is an open-plan working environment that houses the kind of collaborative atmosphere that aligns with today's modern workspace. We want our employees to tap into that collective energy when they come into the office, so they can share ideas, solve problems, and celebrate wins – big or small.
More than a move, this has been a transformation for our Montreal teams, giving them workspaces designed to encourage the kinds of interactions that they need to excel at work and provide our customers with as much support as they need.