5 Min Read
By: Richard Ashman
Blurring the lines between digital storefronts and the brick-and-mortar experience
Compugen's Richard Ashman, an expert on technology's role in reshaping the retail experience, shares his thoughts on the industry's future - fresh from his visit to NRF 2023: Retail's Big Show
Since the early days of e-commerce, the retail industry has had this dichotomy between online storefronts and brick-and-mortar operations, each providing a unique experience to customers. Some enjoy all-encompassing digital shopping for its ability to tailor offers and product recommendations based on customer profiles. Others seek out a face-to-face encounter with knowledgeable sales representatives who can answer questions and provide suggestions right then and there.
Neither claimed nor intended to be the better experience. Instead, these vastly different forms of commerce enabled shoppers to transact with the business the way they wanted. From a management perspective, there has always existed a chasm between the winning strategies for in-store retail and digital shopping. This divide is quickly disappearing, however, and the lines that previously separated the two domains are blurring. Physical stores are becoming increasingly digital – and online shopping is rapidly more experiential.
Data and AI: Working hand in hand for smarter retail
At NRF 2023, an industry conference staged by the National Retail Federation in the Big Apple, I witnessed a much bigger focus on the role of consumer data and Artificial Intelligence (AI) in evolving the business of retail. Data has been a significant driver for years now, but its role has become even more prominent in the sector. Retailers are under constant pressure to better connect with their customers through insight into their preferences, behaviours, and purchasing habits. By compiling these data points, brands can – with the help of AI – make informed decisions, create effective merchandising strategies, allocate labour efficiently, and adjust prices and promotions accordingly – all in the service of the customer.
To achieve this, we are seeing a lot more technology deployed in physical stores that allow businesses to collect the data required to meet consumer expectations today. AI-enabled cameras and various sensors work together to build unique customer profiles that outline their shopping interests and motivations. For example, AI imaging can detect customer sentiment in the store through facial cues and send service representatives to assist them. Cameras can recognize and log demographic information, which can be built into the product and service development process to cater more to these individuals. Heat maps can be visualized to detail dwell time and identify high-traffic areas, allowing businesses to design merchandising solutions that increase customer spending and reduce in-store bottlenecks. The ubiquity of cell phones has also paved the way for understanding shopping patterns in stores. In these scenarios, AI-enabled hardware collects data while AI software parses the information into actionable business analytics.
Even in the world of luxury, where you wouldn't immediately think retail tech would be employed based on a much lower volume of store traffic and a smaller pool of customers compared to big box stores, brands are making advancements. LVMH, for instance, is getting on the blockchain to authenticate high-value products and track where materials are sourced to give customers peace of mind.
The quest for frictionless shopping
On the extreme end of retail automation are completely automated, cashier-less stores. These next-generation shopping concepts bring together the latest technologies to produce a frictionless customer experience. Checkout-free stores represent the epitome of tech-enabled convenience by allowing shoppers to come in, pick up what they want, and walk out. While this necessitates a massive integration effort that's beyond the reach of most retail operations, it provides a blueprint from which brands can take pieces to architect their own take on frictionless shopping. And we're seeing them more and more in our everyday stores.
Imagine picking up this week's groceries and finding a checkout line that's too long for your liking. You can whip out your cell phone, start scanning your items, and do your own self-checkout – without a dedicated, unattended payment system. It's like jumping from one plane of existence to another – seamlessly and with incredible ease. This is one of many "queue-busting" solutions that retail businesses constantly evaluate to improve customer transactions.
Not long ago, Compugen worked with Little Caesars on their Pizza Portals. These portals were essentially smart food lockers that allowed contactless pickups of online food orders. Deployed not a moment too soon in light of the global events of 2020, Pizza Portals gave Little Caesars a novel way to interact with customers and serve them as they preferred while satisfying provincial health mandates at the time. On the business side of things, this type of technology enables a shift in retail technology investments from self-checkout systems and cash registers to the backend infrastructure that supports this capability.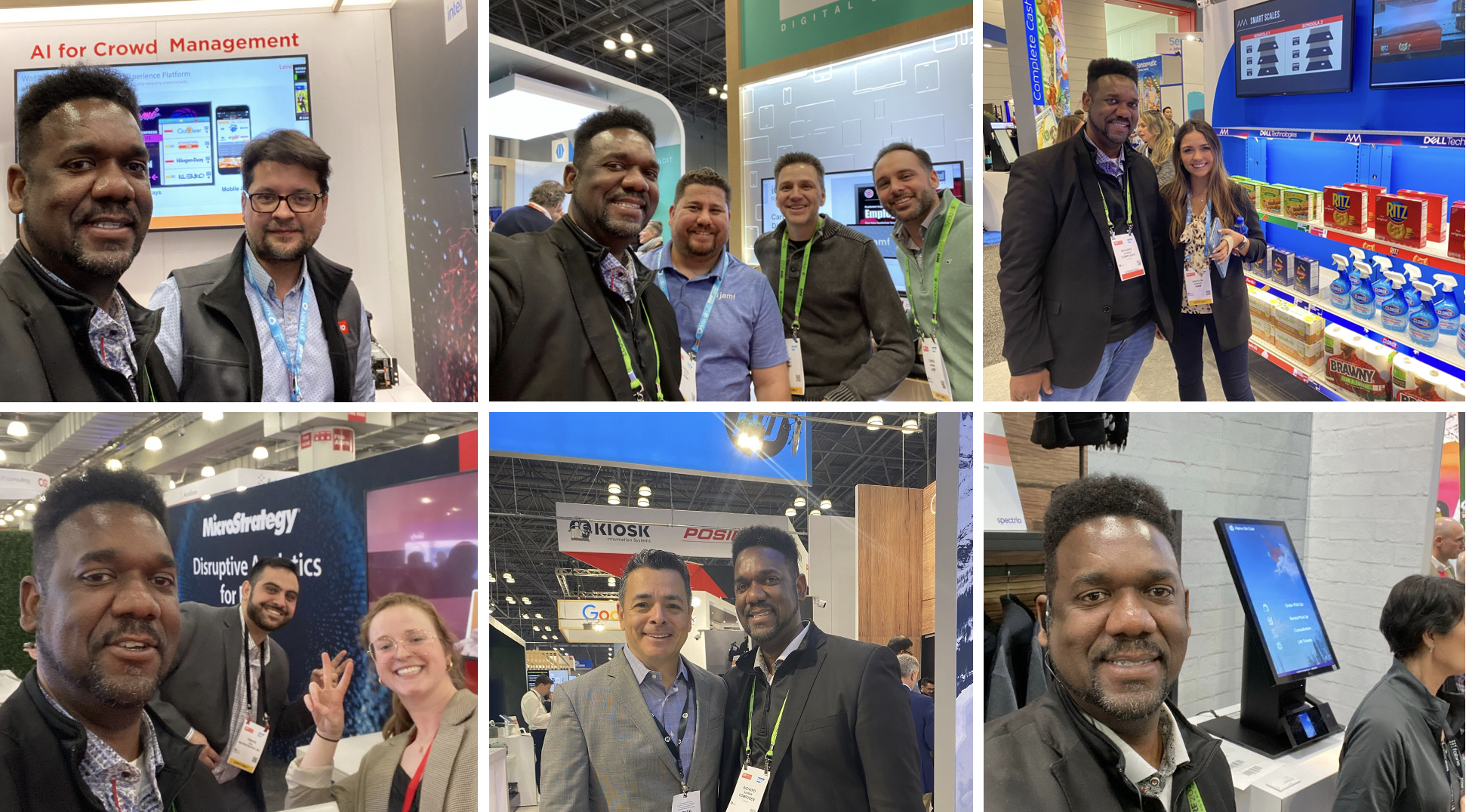 Robotics in retail – and beyond
Deploying robots to perform repetitive tasks is a growing trend in retail and supporting industries as well. In Toronto, some restaurants have been using robots to serve orders and bus used plates and utensils off the floor. Home Depot has been piloting a robot that conducts inventory checks to keep track of available merchandise. Sparrow, Amazon's autonomous order picker, is making its way into a growing number of warehouses, leaving a positive impact on process efficiency and workplace safety. Self-driving delivery bots are finding themselves in more and more cities across the continent, and their prevalence will only increase over time.
The data privacy dilemma
Every interaction represents an additional data point for retailers to leverage and add further colour to their customer portraits. However, in the era of the privacy-minded consumer, the pushback businesses are experiencing is fast becoming a credible obstacle to this goal. This is where privacy and personalization come at odds, where more of one naturally constitutes less of the other.
The onus is on shoppers to decide how much they are willing to give up to receive something in return, and it is up to them to evaluate whether or not the benefit is worth it in the end. Companies can only make it easier for their customers by addressing the ethical questions in their data collection strategy and better communicating their privacy policies. Practices ranging from anonymized data to collecting only what is needed to enhance the experience can help turn shoppers in favour of a higher degree of personalization.
Way forward
To collect usable data and crunch the numbers, IoT and AI will have to work hand in hand toward improving the customer experience. Infrastructure will determine a retailer's capability to leverage any of this new technology in streamlining its operations. At the bare minimum, a cloud-first POS system that integrates Enterprise Resource Planning (ERP) platforms and allows an omnichannel experience is needed to materialize this kind of in-store convenience. A network modernization effort will also be required to connect all the additional sensors, cameras, and devices to an AI engine that can convert raw customer data into business intelligence. Lastly, cybersecurity is a top priority for processing next-generation payment systems.