3 Min Read
By: Marty Grosh
Business Transformation + the Promise of IT
For years now, there has been an ongoing concerted effort at Compugen toward realizing our vision of unified services. By that, I mean being able to offer a breadth of skill and depth of expertise, seamlessly leveraging those strengths to support our customers along their IT journey. It's about providing a consistent feel so that the client recognizes a familiar model every step of the way, from initial onboarding and operations management to reporting and billing and adding new services.
It cannot be overstated enough that at the root of it all is the customer – and our accountability to their outcomes as their service provider. The role of IT providers has been viewed as that of a supplier rather than a partner. This paradigm meant that beyond specific contract deliverables, IT companies are not accountable for or focused on ensuring that the technology and services they provide are actually helping the customer's business.
Providers were primarily concerned about what technology, when it was needed, and where it would be delivered on the customer's instruction. Many suppliers would say, "Look, I've got this one thing for you, and it works this way. I can get you the technology and hope that helps you achieve your goals."
Being accountable means answering the more critical questions, too: the whys and hows. Why is the customer coming to us? How can we use our expertise to support and enable – not sell to – their business?
This reflects a paradigm shift in IT's part in the customer-provider dynamic from merely keeping the lights on to enabling business transformation. More and more, the focus today is steered away from the deliverables of IT and toward the promise of IT. The change did not come about ex nihilo, however. Customers have increasing expectations of what technology can do for them, and they want to work with providers who can deliver that. However, redefining the IT provider's role to partner does not do away with the support element but adds to it. The work then becomes a combination of response and prediction.
The way you measure success then turns into something very different. It used to be that delivering a set of products and services that the customer ordered ticked all the boxes and was considered a successful execution. Unified services themselves are developed with customer outcomes in mind, and achieving them is the metric against which our success is measured.
This has not always been how Compugen was organized – our true operational model. To offer the experience customers needed, we had to formally define unified services as a strategic priority. Instead of setting a corporate structure in stone and letting it limit the services you can provide, the emphasis should be on customer outcomes and using them as the end goal to trace your steps back. For some companies, this is more of natural evolution, an intuitive answer to an ever-changing market. For others, it's a massive overhaul that requires significant modification in thinking, processes, and operations.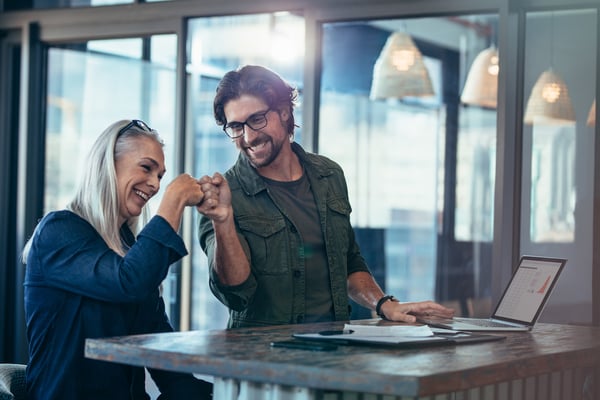 It goes without saying that such transformation involves a lot more strategic direction than service design or delivery. Transitioning into a unified services model is a significant commitment that everyone across the organization needs to buy into – it becomes part of our culture.
Three fundamental principles direct Compugen's unified services framework: elevating the customer experience, developing the next generation of services, and focusing on long-term value and engagement. We strive for integration between different departments and practices, with cross-functional teams working toward a common goal.
We want to ensure that any contact with Compugen is a familiar process for customers and that their expectation of quality does not change no matter which of our practices they're working with or which part of the journey they're in. We always want to leave them feeling great about the services we are providing, regardless of how far we are in our journey together. When adopting a unified services model, it helps that we have quite the breadth in terms of service capability, from infrastructure and modern workspace to cloud, networking, and security. We draw from these practices to offer an end-to-end experience to clients. And that experience doesn't change whether a customer gets one service or everything on the menu.
It's important to note that our vision of unified services is a work in progress – a constant one at that. As attitudes change and market developments unfold, we will continue to move with the industry by evolving our strategy: always placing the customer at the top of the food chain.