5 Min Read
By: Steve Spence
The Music is Constantly Changing, so Pick Your Dance Partner Carefully
Managed Services are undergoing a metamorphosis, as are the Managed Service Providers (MSPs) that deliver them. A new breed of MSPs is branching off from the asset-based technology paradigm of performing the day-to-day care and feeding of the technology you own. Following the market shift, these MSPs instead approach IT management with the primary goal of supporting your business outcomes and using emerging technology as an enabler.
Growth in Managed Services
The pandemic forced a lot of change. "Companies are quickly learning how crucial it is to digitize all processes across the business," reports George Humphrey, Vice President and Managing Director at the Technology and Services Industry Association (TSIA). In his State of Managed Services 2022 report, Humphrey advises MSPs to be attentive to the urgency. "Managed services providers that have overly complex and custom solutions have created self-inflicted wounds," he noted. Even while MSPs are adjusting their offerings to these new realities, demand for help is stronger than it's ever been, growing at 20% per year, according to the TSIA. During the pandemic, several of our own Managed Services customers learned how vital it was to have a strong MSP partner. It's probable that many organizations in Canada would not have survived were it not for the support and vigilance of their Managed Services partners.
If you're looking for an MSP today, you're presented with a dilemma. Which is the best partner for you: an MSP who can operate your legacy on-premise infrastructure or one you can lean on for help cultivating your digital future? If your organization is like most, you need a little of both. Of course, not every MSP whose primary business is managing on-prem technology is a straggler. For the time being, there is – will be for the foreseeable future – a market for this type of offering. There are enterprises who don't ever envision running their business on the public cloud, and they find great comfort in an MS partner who specializes in on-premise technology management.
Before we turn our attention to dealing with this dilemma, let's first take a step back and reexamine the core value of managed services.
More Time for Improving and Transforming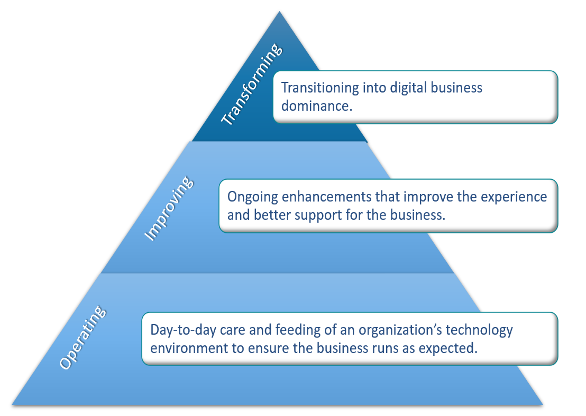 Figure 1 Management Pyramid
The best MSP relationship is one where the customer realizes, as a direct result of the MSP, a hefty increase in IT capacity, specifically more time spent on improving and transforming IT.
Here's how it works. The three-tiered Management Pyramid in Figure 1 illustrates what every manager knows: that any workgroup divides its time across three tasks - Operating, Improving, and Transforming. Most IT departments spend the lion's share of that effort on operations, sadly at the expense of the higher tiers. The unintended outcome of this is insufficient attention being given to digital transformation. This challenge is particularly heightened in small and midsize organizations whose disproportionately smaller IT teams tend to be even more tightly shackled to the running of their IT machine.
Partnering with an experienced managed service provider, however, lets you reallocate your internal resources. By entrusting at least some of your operational responsibilities to an MSP, you can unchain your most digitally savvy internal people from the machine and let them loose on making critical improvements and transformations, particularly for strategic ventures like maturing your company's digital engagement – with staff, partners, and customers.
Not surprisingly, the two different MSP types - Traditional MSP and Cloud MSP - give you different outcomes. As mentioned, a Traditional MSP frees up members of your team for other work. The degree to which this additional capacity can be applied toward improving and transforming depends on the experience and knowledge of the individuals on your team you no longer need in operations. Realistically, team members who have been fixated on maintaining a steady-state environment may not have the innovation disposition or architectural qualifications for this work, and you may need to augment with outside consultants. A Traditional MSP may be able to offer you some guidance with cloud, but because of their dedication to operational stability, it's best to keep your expectations low.
On the other hand, a Cloud MSP offers great assistance with operating your subscriptions or cloud services and ensuring that you achieve your targeted business outcomes. You'll get a much-needed boost in your transforming capacity but likely only modest assistance with operating. A Cloud MSP is an obvious choice for organizations that are 100% cloud or subscription-based but not the most ideal for those with hybrid environments.
Bridging the Divide
Fortunately, there is a third MSP alternative: the Hybrid MSP. With proficiency in managing both on-premise and cloud environments, a Hybrid MSP effectively bridges the gap between the outcomes of a Traditional MSP and a Cloud MSP. A Hybrid MSP not only frees up internal resources, but it also gives you access to their in-house cloud and 'X-as-a-Service' competence. They are a perfect fit for organizations with a mixture of on-premise and subscription IT, either those who have committed indefinitely to both or those who are on a journey to a new digital reality. These providers are not as easy to find, but for the breadth of skill that they offer, they're worth the effort. After all, just imagine the potential bun fights if you were to contract one of each - a Traditional MSP to manage your legacy systems and a Cloud MSP for cloud services. How much fun would it be trying to get the two of them to cooperate on migrating you from the old to the new?
You Want a Hybrid MSP. Now What?
If you've decided to go with a Hybrid MSP based on your business needs, realize that's only half the job. You still need to figure out which one. Go beyond the brochure and the promises and dig deep into their proposal or RFP response to find out how they really work. The methods are as critical to making the choice as the solutions themselves. You need to find a partner with the experience and credentials to deliver consistently, the integrity to operate as an open book, and the depth to execute with best practices and repeatability versus a made-to-measure custom solution pulled together just for you. This is a trust relationship. It's as important that you know how they will manage your relationship as it is to know how they'll manage your technology.
Compugen is an example of a Hybrid MSP that evolved from decades of success as a Traditional MSP. Six years ago, we realized that for most organizations, a hybrid IT environment would clearly be essential. So, we invested heavily in cloud and XaaS so that prospective customers would feel comfortable entrusting all or part of their cloud management to us. This shift enabled us to gradually grow our market presence into being one of Canada's preeminent Hybrid MSPs.
You can tell a great deal about an MSP by its portfolio. Compugen's MONITOR and MANAGE portfolio in Figure 2 reflects a clean simple model ideal for an IT organization looking for a partner with whom they can grow.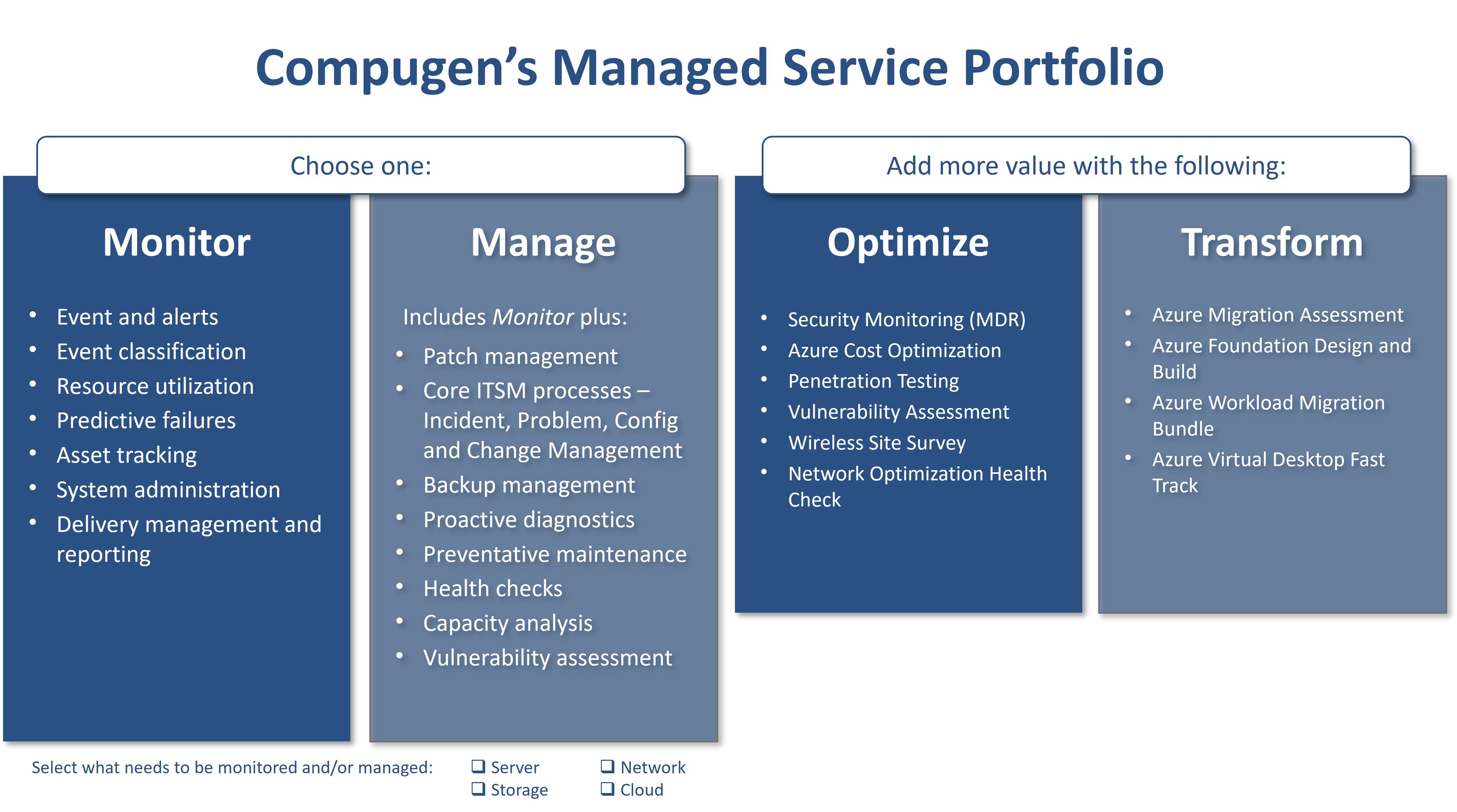 While rising in popularity, Managed Services are in a state of transition. Choose wisely and ask deep questions about their capabilities. Your best MSP option is usually not the cheapest, but neither does it have to be the most expensive. Humphrey describes today's best-in-class MSP as one that "embraces simple, standard, and scalable offers. They seek out and destroy complex, manual operations with advanced, scalable digital operations…the biggest trend we're seeing in managed services is the digital operations evolution."
No MSP is perfect. Find their blemishes and warts; they'll certainly find yours. Take whatever time you need to see whether the trust between you reveals itself. Remember, you're choosing a partner, not a supplier.

SOURCE:
TSIA "The State of Managed Services 2022" George Humphrey