Creative technology adoption is critical to modern healthcare delivery at Hamilton Health Sciences. Hamilton Health Sciences (HHS) is a healthcare provider comprised of

a community of 15,000 staff, physicians, researchers, and volunteers serving the residents of southwestern Ontario.
HHS is the only hospital in Ontario that provides care for all ages, from pre-birth to end-of-life. The facility offers world-leading expertise in many areas, including cardiac and stroke care, cancer care, palliative care, and pediatrics. The largest employer in the Greater Hamilton region, Hamilton Health Sciences has longstanding relationships with academic partners McMaster University and Mohawk College in developing the next generation of health professionals
.
Staff, physicians,
& volunteers
Healthcare budgets
spent on manpower
Average device lifespan
for phones & PC's
CHALLENGE
Before the pandemic, HHS was already facing a number of challenges – both internal and external – which signalled the need for an overhaul in the way it delivered patient care. The COVID-19 health crisis added immense strain on the public healthcare system, resulting in capacity issues, treatment delays, and skilled labour shortages.
The number of devices staff needed to use to perform their day-to-day activities was not sustainable. Instead of only needing one or two devices to perform multiple tasks, the responsibility had to be spread to more tools than necessary. There was a pressing need to create a less stressful environment for clinical teams using smarter digital workflows.
The age of devices was also a concern; most of them were six to eight years old and only retired when they broke beyond repair. Due to the hospital's previous device management model, replacing them at shorter intervals would be too big a financial undertaking, was unpredictable from year to year, and was contingent on capital approval.
Lastly, the Ministry had been advocating for higher budget efficiency and mandating alternative methods for hospitals to increase their capacity in light of the mounting stress on the Canadian healthcare system. In most cases, between 65 and 75% of healthcare funding is spent on labour, which means that upping capacity translates to higher labour costs. There is a growing push among hospital networks to explore other avenues of adequately serving the needs of the community beyond expanding the workforce. To achieve this, Hamilton Health Sciences focused on digitization and magnifying the impact of technology on its operations.
SOLUTION
As part of HHS' move to a fully digital workplace, the hospital launched a modern health information system called "Epic" to increase patient safety and quality of care. This enabled staff and physicians to make smarter decisions in real-time and newer technology was essential to make this transformation work.
Kareem Toni, Director HITS Client Services and BioMedical Technologies, along with his team at HHS, led by Robert Ricci, Manager Customer Services, engaged Compugen to perform an assessment of their existing IT environment and design a solution that would modernize the way the hospital utilized technology. During this phase, Compugen conducted a study of how every user completed their tasks and on which devices. The rightsizing effort took staff workflows into account, establishing an understanding of what they needed to do on a daily basis and, afterward, identifying the appropriate technology to simplify the process and lighten their workload.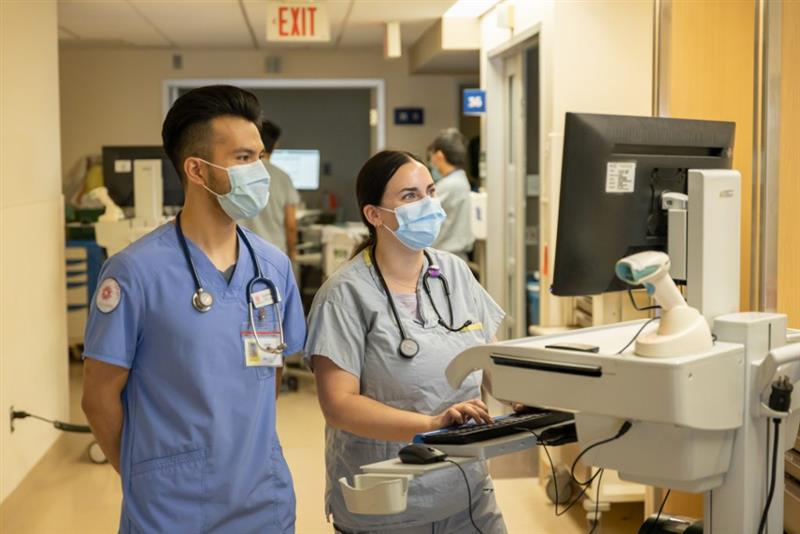 Modern workspace consultants also evaluated the hospital's device procurement and management costs, devising imaginative ways of placing up-to-date technology in the hands of every hospital worker without turning it into a financially prohibitive undertaking for Hamilton Health Sciences. Compugen formulated a new device lifecycle model that allowed for more frequent technology refreshes while maintaining a focus on budget optimization for HHS. This Device-As-A-Service model allowed HHS to achieve its technology and financial objectives with a sustainable model for the future.
Lastly, Compugen selected strategic OEM partners to furnish HHS with energy-efficient, environment-friendly edge devices, kept up to date to minimize the risk of cyberattacks. The OEMs selected for this project adhered to strict sustainability policies, ranging from manufacturing and logistics all the way down to the lifetime carbon emissions of the devices.
RESULTS
The modernization project's positive impacts can be felt across all tiers of operation in the hospital. The undertaking has enabled Hamilton Health Sciences to introduce a fundamental change in how it delivers patient care through a creative approach to technology lifecycle management. This new device model directly supports HHS' workflows by ensuring healthcare workers have the digital tools they need at their fingertips to access real-time patient data through the EPIC HIS. This creates a digital-first experience for both workers and patients that mirrors the techno-cultural shift that they have come to expect in daily life and across all industries.
The new approach to device lifecycle management has also allowed HHS to adjust to a refresh cycle of 36 months for mobile phones and 36 months for laptops (down from an average of 72 to 96 months) without significant changes to their digital infrastructure budget. This ensures staff members always have the most up-to-date technology in their hands with the highest levels of performance, functionality, and security available in the market. A more simplified device strategy also streamlines the management aspect, reducing the impact on IT resources required to support the hospital's technology needs. Compugen's deployment and configuration support empowers Hamilton Health Sciences IT team to focus instead on technology projects that drive the hospital forward.
This Device-As-A-Service model also provides risk mitigation benefits to HHS. By handing over the lifecycle management process to Compugen, the associated risks are assumed by the technology partner. This includes procurement, quality control, configuration, deployment, and ongoing support of the devices. With the size of the hospital's technological estate, such a move constitutes a massive relief on operational resources, as Compugen provides the human capital required to support the facility's IT assets. This is a significant undertaking that demands considerable skill and expertise.
Additionally, the solution paves the way for a sustainability action plan for HHS. The devices are manufactured and sent down the supply chain to the hands of hospital staff with great consideration for carbon footprint, both in terms of production-based emissions and energy consumption throughout their lifetime.
Ultimately, this transformative undertaking has satisfied Hamilton Health's overarching goal of meeting the needs of its communities. The medical facility has achieved this by increasing capacity through creative technology adoption without resorting to workforce expansions to cope with the mounting demand for healthcare services.
Partners Involved