While many business workflows have gone digital, some still rely heavily on paper processes. In fact, 70% of organizations remain dependent on print, according to a study by Quocirca.
But modern print workflows aren't standalone procedures. They must tightly integrate with your digital processes and IT infrastructure to ensure seamless operations. Poorly managed print systems increase costs and cause security and regulatory compliance issues.
As such, well-managed print processes should be an integral part of your digital transformation strategy. However, most enterprises don't have the dedicated resources or expertise to focus on their print infrastructure. The good news is you don't have to go it alone.
Managed print services (MPS) providers help organizations modernize their print processes to increase cost-efficiency, reduce waste, support hybrid work, and ensure compliance and security. Let's look at what MPS entails, the benefits of MPS, and how to choose the right partner to ensure a successful implementation.
What Are Managed Print Services?
MPS offers comprehensive solutions for managing and optimizing an organization's printing infrastructure and document output. MPS providers help businesses assess their print processes, create and implement a customized print strategy, provide equipment, automate supply replenishment, ensure print security, and help manage print costs.
A comprehensive approach to print management includes four essential components:
Services: Offer advice to increase operational efficiency, decrease cost, and create a print strategy to support your business objectives. The consultation services can help you optimize your print environment, improve print security, leverage business intelligence, and more.

Software: Use cloud solutions to help you manage, secure, and optimize a hybrid fleet to support remote work and distributed teams. The software component helps improve productivity and drive down costs by improving employee and IT efficiency.
Hardware: Provide access to equipment (e.g., scanners and printers) to support your print strategy. Your provider may offer a portfolio of managed devices or manage your current environment with your existing equipment.

Supplies: Automate supplies replenishment to keep all your print processes humming along to minimize downtime. Some MPS providers, like HP, also manage return and recycling to help reduce your administrative burden and environmental impact.
The Benefits of Managed Print Services
MPS connects digital and paper processes, ensuring a seamless and secure information exchange across teams, tasks, and workplaces to foster collaboration and innovation. Here's how a robust cloud-based MPS enables you to drive business growth, boost productivity, and reduce risks.
Enhance Hybrid Work
MPS provides remote workers and distributed teams with the right tools, supported by automatic, just-in-time supplies delivery to remove friction from day-to-day workflows. The services allow employees to focus on their jobs instead of managing print equipment and processes without increasing the IT burden.
Digitize Business Workflows
Your MPS provider automates print-related processes to eliminate manual, time-intensive, and error-prone processes for end users and IT personnel. A secure and flexible solution like HP MPS empowers teams to move fast and create value no matter where they are.
Support Cloud Integration
A highly configurable MPS solution allows you to integrate print processes seamlessly with your cloud infrastructure. For example, you can automate routine administration tasks through remote management services and workflow software, scale custom processes across the organization, and implement new rules in real time to support enterprise-wide governance.
Reduce Printing Costs
MPS gives you better control over your printing costs by tracking print activities, identifying inefficiencies, and implementing targeted cost-saving measures like enabling duplex printing or routing jobs to more cost-effective devices for each task.
Distribute Print Workloads
Some printers are "overworked," leading to long queues and excessive wear and tear that require additional maintenance or early replacement. Meanwhile, others stand idle. Your MPS provider can configure your system to route print jobs intelligently, distributing workloads evenly across printers to minimize delays and optimize resource utilization.
Capture and Secure Data
The average document moves from analog to digital nine times over its lifecycle, increasing data security and compliance risks. Some MPS solutions, such as those offered by HP, allow users to scan and digitalize documents early in the process with imaging and printing infrastructure at the edges to minimize document loss or data theft.
Strengthen Cyber Resilience
A robust MPS solution enables you to implement zero-trust principles to enhance print security and support a layered approach to defending your network. For example, you can leverage access control and authentication technologies to ensure that only authorized personnel can release a sensitive document from a printer.
Advance Sustainability Goals
An MPS partner can help you implement monitoring and oversight to optimize print usage, reduce waste, and measure progress toward reducing your environmental footprint. Additionally, HP's MPS handles supplies recycling management and provides carbon impact data for ESG (environmental, social, and governance) reporting.
Enable Ongoing Improvement
Your MPS provider monitors your print infrastructure and leverages data-driven insights to recommend targeted improvements. It also offers advice and expertise to help further reduce costs, improve efficiency, and enhance security with the latest technology and best practices.
How to Choose the Right MPS Partner
Partnering with the right MPS provider will help you get the most out of your investment. Here's what you should consider when evaluating your options:
Extensive expertise and experience in your industry.
Comprehensive print solutions to meet your business requirements.

Access to the latest hardware and software to meet your needs.

Technology that integrates with your existing infrastructure.

Support for your sustainability initiatives and ESG reporting.

Print security features like user authentication, secure release, access control, etc.
A centralized dashboard to manage multiple locations or distributed teams.

Customized configuration to support your organization's print and data policies.

A commitment to delivering high-quality and responsive customer support.

A flexible and scalable solution to future-proof your print infrastructure.
Support Your Digital Transformation Journey with HP MPS
37% of organizations agree MPS is very important to digital transformation. Meanwhile, 65% of knowledge workers say automating and optimizing collaboration, routing, and approvals help them save time, increase productivity, and reduce errors.
But who should you trust to provide your MPS solution and implement the hardware and software to support your business processes?
HP takes a holistic approach to managing the latest printing and imaging tools, technologies, infrastructure, and processes. Its end-to-end solutions help organizations improve productivity, simplify management, and reduce costs while promoting a user-friendly environment.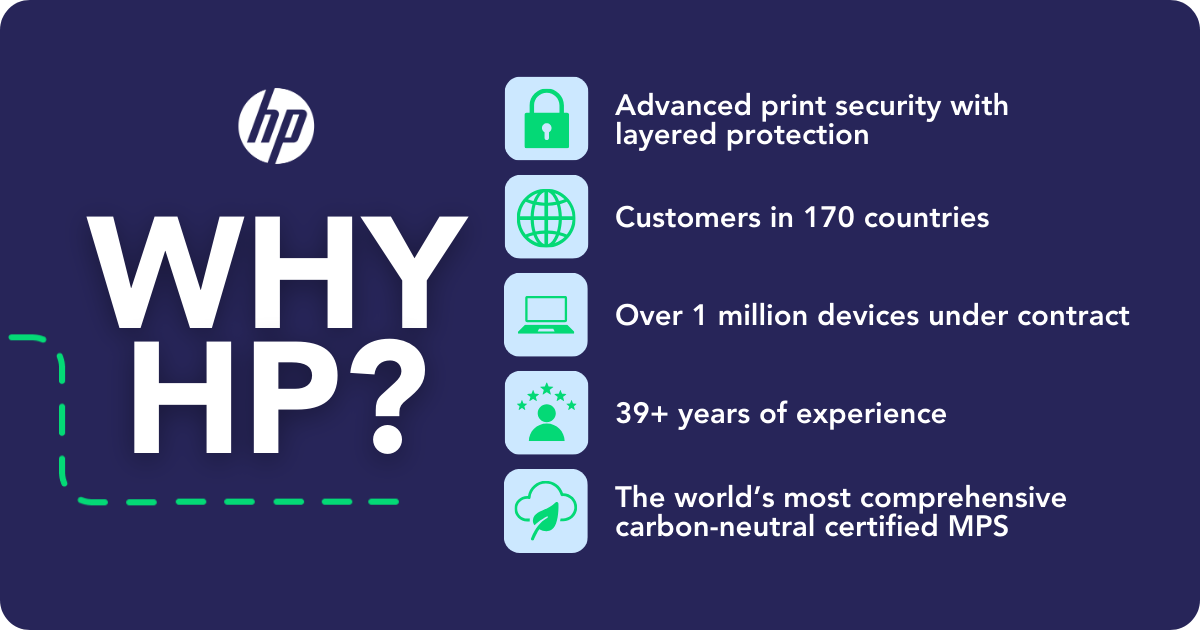 [ Source ]
Choosing the right technology is just the first step. You should also have an implementation partner who takes the time to understand your business requirements, design a strategy that aligns with your goals, and be there every step of the way to ensure ongoing success.
Build Your Alliance for Managed Print Services
At Compugen, we're committed to providing reliable support and exceptional services to our clients. As your technology ally, we provide innovative solutions that inspire change and services that foster security and resilience to help you achieve your vision.
We partner with HP because of our alignment in strategy, culture, and commitment to customer success. We help our clients implement and maintain HP MPS solutions through seamless communication and collaboration with the trusted technology vendor to realize your IT roadmap and realize new possibilities.
Learn more about our HP partnership and schedule a conversation to see how we can help you improve your enterprise print processes.